Lilies are synonymous with weddings – the way they look almost pure in colour and texture, smooth and silky they are just perfect for weddings. Here at Sarah's Flowers HQ we've been putting our heads together and coming up with some heavenly calla lily themed bouquets.
We work our hardest here at HQ to make sure that we come up with the best colour schemes – with colours that melt into each other, and flowers that look so realistic you would never know they weren't real.  As well as creating the more traditional cream coloured lilies, our manufacturers have expertly dyed our lilies in more vibrant shades of tangerine, pink and purples. The great thing about our artificial wedding bouquets are the great value prices we offer, meaning you don`t need to pay a premium price to get premium quality wedding flowers  (there really is something for every couple and budget) and longevity (our bouquets will last you for years and years)
Here are some of our favourite Calla Lily combinations:
Tropical Bouquet with Calla, Gerbera and Orchids £47.50
This sunny bouquet speaks volumes – with its gentle but vibrant combination of Gerbera's and orchids the Call Lilies are part of our soft touch range of flowers – these flowers are as about real as well, the real thing! Mixed in with some thick ficsus leaves and ribboned handle this bouquet is a little ray of sunshine.
Rustic bouquet with orchids, roses and calla lilies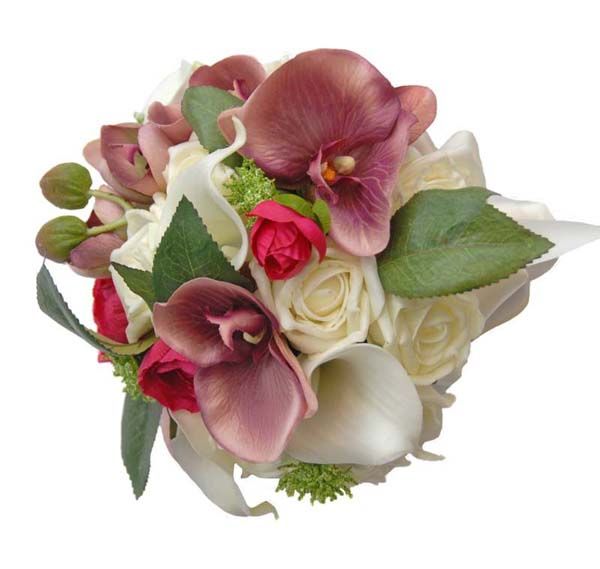 This bouquet again has the soft touch lilies but the colour scheme is very different from the above. With a gentle tonal colour scheme, the flowers have a real earthy rustic feel about them – with more classic colours such as ivory.
Purple peony, calla lilies and orchids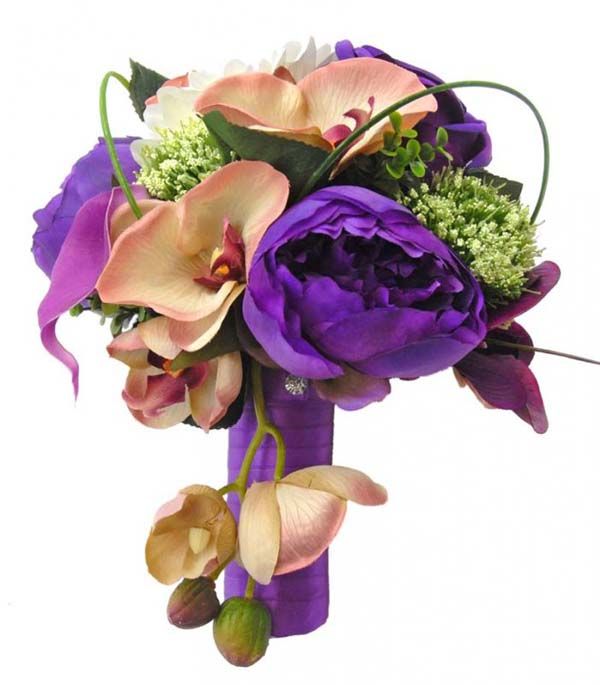 This bouquet is a sumptuous selection of purples – with a jewelled purple peonies, roses and soft touch purple calla lilies all underlined with small rose leaves, silk orchids with buds gently cascading down the handle.
Bright Yellow Calla Lily Wedding Bridesmaids Posy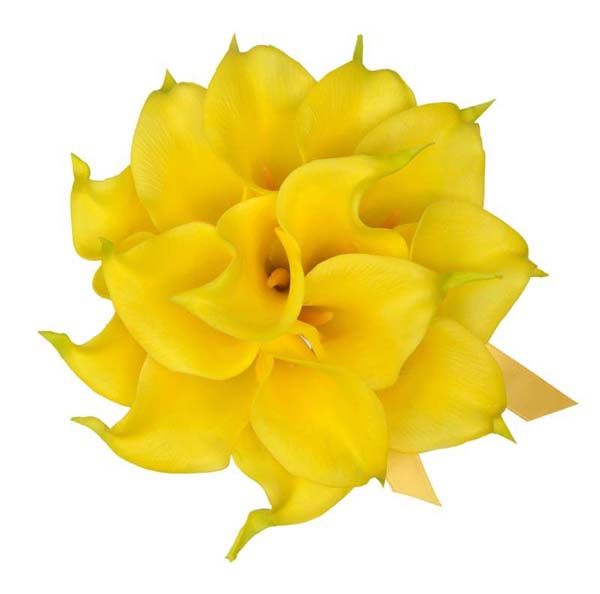 Its bold, its bright, its a stand out bouquet hand made from soft touch natural yellow calla lilies and an ideal way to add a sunshire colour into your wedding day and flowers, this posy also makes a wonderful beach wedding bouquet.
Have you thought about having calla lilies at your wedding?