Whilst you lot have been 'oohing and awwing' over the Olympics, here at HQ we have been putting our pedal to the metal and putting together some new, and dare I say it, amazing new items for you all to enjoy. 
As well as the amazing brooch bouquets that we featured on the blog we have been coming with many more ingenious ideas to make your wedding bouquets even more special than ever before – armed with copious amounts of tea and a smattering of cake (for sustenance of course) we've been brainstorming like never before, in fact we think we should win a gold medal for this alone, and we are now really happy to show you the latest additions to our Sarah's Flowers family:
The handmade Bead and Pearl bouquets  
Gone are the flowers being the centre of attention, this time we have created a bouquet that is both delicate and show stopping all at the same time. Both of these bouquets are made with ivory pearls, white beading and crystals – I keep finding myself taking a double look everytime I see these bouquets. They are not only really beautiful, they also manage to look innovative but we worked hard to still make them classic looking. We have two in the range at the moment, with the smaller priced at £95 and the larger bouquet priced at £195 these will make a great addition to the more vintage, classical themed wedding and I can ensure you that these will be talking points!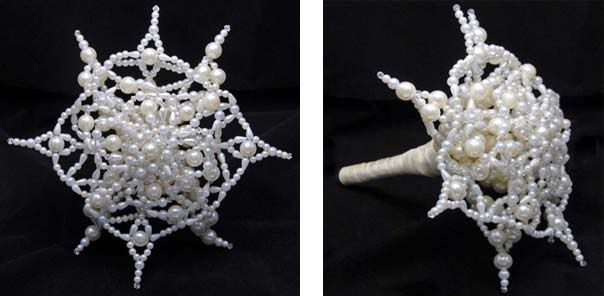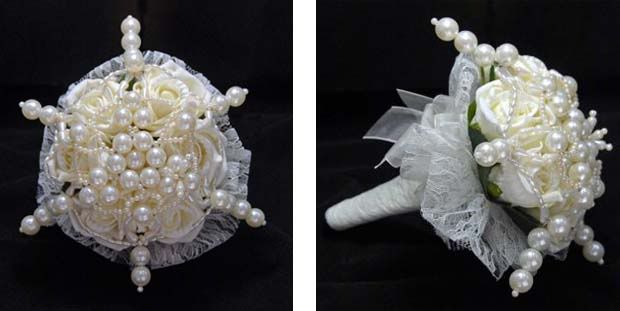 The Exquisite range: the Pearl and Crystal loops
This range is brand spanking new and we can barely contain ourselves! We have taken our normal bouquets and ramped the style up by thousands! A larger domed shaped bouquet is literally filled to the brim with loveliness: Cerise open Isabel roses with a shimmering glass diamante, claret/purple peonies, dusky lilac gerbera's, velvet deep red roses, peridot green hydrangea and ivory trachelium all finished off with a beautiful ribboned organza handle with matching bow and handmade loops of ivory pearls and crystals. This is the only bouquet you need right now, this is the gold to our collection.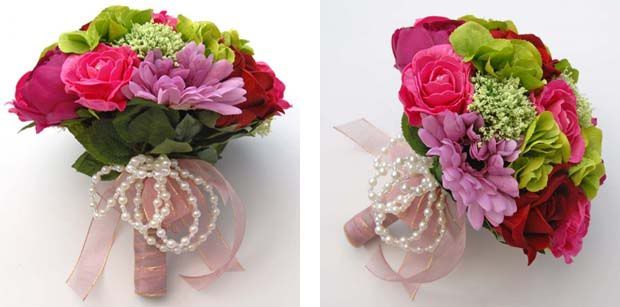 The Bridesmaid's turn
We just had to show you this absolutely beautiful bouquet which is for the Bridesmaid's this time. Catching your eyes first is the zingy green of this small bouquet, it has a real air of 'fresh' ideal for the younger bridesmaids, this is a real modern take on a classic. With ivory classic roses, peridot green hydrangeas and finishing off with the feminine pink silk orchids. The handle is silk wrapped with matching bow and overall this bouquet is a really nice addition to our collection and allows the Bridesmaids to have a little something different on the special day.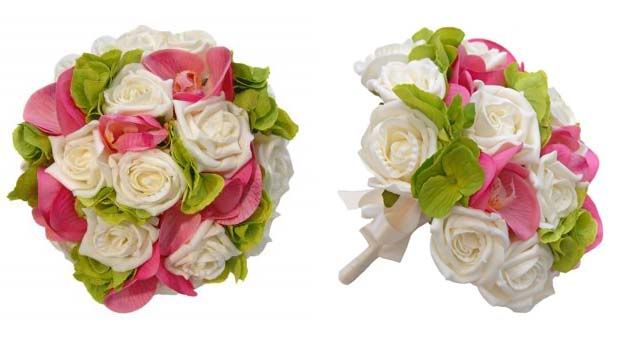 We hope you like our new bouquets as much as we do. Here at Sarah's Flowers we really do relish the opportunity to hear your thoughts or feedback, so how about telling us what you'd like to see more of and why. Armed with more cake I'm sure we can come up with some stunners!