Here at Sarah's Flowers we continuously update our catalogue of flowers – new types of blooms, colour schemes, different variations and themes, there is always something going on and being added. We are really proud of our progress and with a new weekly feature we are showcasing a 'Bouquet of the Week'
We are slightly biased however, as well, all our bouquets and flowers are pretty darn beautiful so that's why we thought we'd show off our favourites – every Wednesday we will show off a new design or one of our classic favourites.
This Wednesday is the time of our Ivory Rose & Red Anemone "Forever Flowers" Bridal Wedding Bouquet.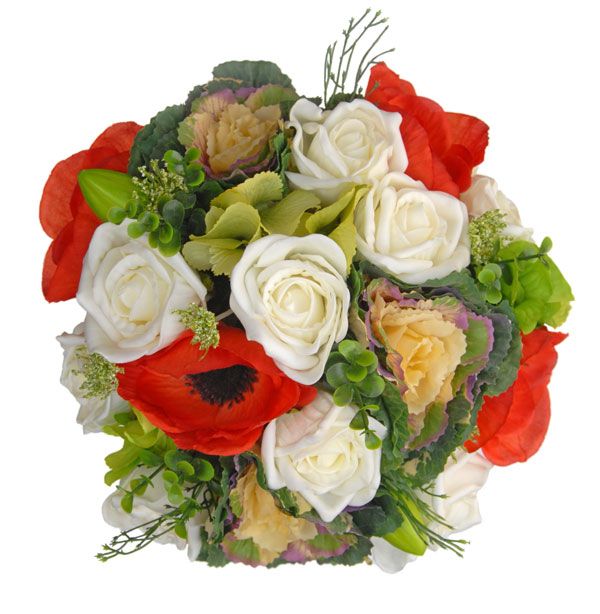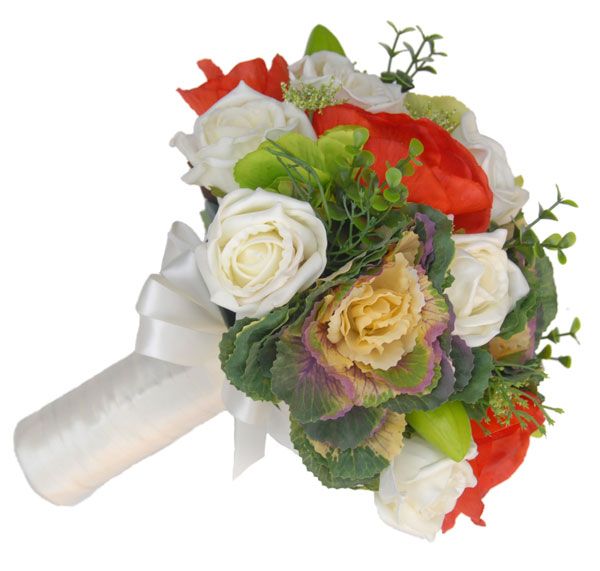 Ivory Rose & Red Anemone "Forever Flowers" Bridal Wedding Bouquet
This bouquet really is something special: extravagant and full to the brim with sumptuous blooms .  With elegant ivory foam roses, ornamental cabbage, and silk periodot hydrangeas, they are all clasped together with the bright, vibrant and romantic red vibrancy of exotic Mediterranean anemone blossoms.
What makes this bouquet so special is unlike natural flower, these silky "forever flowers" will never fade— a bit like the love between the bride and her groom. This bouquet will be a great reminder of your special day.    We can even match the style of this bouquet and make matching bridesmaids bouquets and button holes to suit – all you need to do is contact us and we will do the rest for you!
Priced at only £59.95 this high quality wedding bouquet is great value and really is worthy of our Wednesday 'Bouquet of the Week'