Wedding trends do come and go and here at HQ we try to keep our beady eyes on the more popular ones. Lately there has been a massive influx for a more 'rustic' approach to a wedding. Gone are the times where everything had to be just perfect, shiny and brand spanking new, it seems as well as trying to be more frugal with our pennies the Rustic styling of a wedding is easier to achieve.
Before you all start to worry that Rustic means 'old' or even err, broken, hold on! Rustic is earthy, everything is more natural, free and more easy going. It's the more casual wedding. You almost want your guests to feel that not much effort has been put in but still have everything catered for, not to mention this theme keeps the cost DOWN: everything is more handmade, or even second hand, therefore helping you control the purse strings. Plus it makes people to feel just a little more at home. So how do you get a more natural, rustic feel to a wedding? Here we share our top tips:
Create superb centre pieces by using old wine bottles as candle holders. Even pre-light them to have that 'used' look with the wax dripped down the side.
Think of hiring an old barn as your reception area. There are countless ways of sprucing the area up. Layer candles in the darkest corners to create the illusion of more room.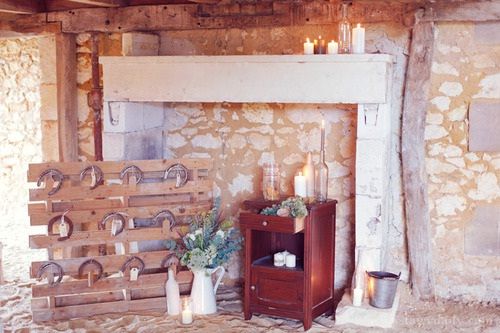 Fabric can play a massive part is a more rustic wedding: lace trims on table runners, rope used around chairs. Adding flashes of floral fabric on the tables as napkins or even on the Groom's suit can add a more homely, natural feel.
Paper lanterns or lampshades hung sporadically up around the seating areas can create an interesting view without being too OTT
Try to purposely mis-match various items, whether it be the chairs, or the cutlery and plates. Everything doesn't have to be perfect.
For the Wedding dress, try using antique lace mixed with more modern fabrics. Add a boot underneath a layered dress to add a little more country. Add denim shawls to keep guests/Bridesmaids warm.
Try using home-made jam in jars labelled with guest names to sit proudly on the tables – "spread the love"
Old, pre worn horse shoes can add a nice subtle rustic bit of bling to your surroundings: try using them either as decoration or attach names to a tag for seating plans.
Old Antique cake stands smothered in old fashioned sweet treats make for a great addition, especially for the kids. Add brown paper bag and raffia drawstrings for them to place their treats in.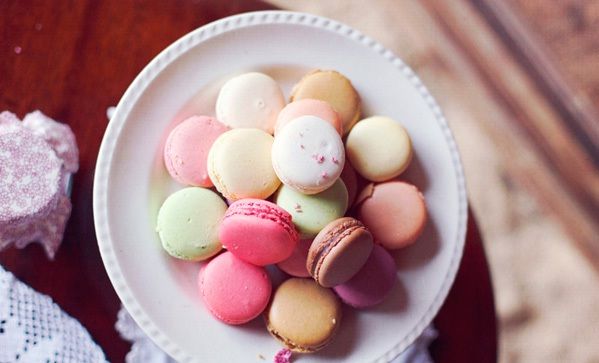 One of the greatest things about a Rustic themed wedding is the natural feel of the flowers. Lots of natural ivory with green is used heavily. If you want to break the schemes up a little, add a colour lash of burnt orange.
Our Diamantie Rose Wedding Top Table decoration has a gentle us of cherry blossom and green foliage whilst still keeping the essence of the ivory rose – can be used in a multitude of places.
For the Brides bouquet, we have a wide selection of great Rustic themed bouquets. Our favourites are the Green,cream and white  wedding day bouquet – simple and cost effective. Perfect for the rustic theme.
We just love this more natural, easy-going feel of this wedding. How would you do your Rustic theme?
*all non flower photo's courtesy of http://lamarieeencolere.com thank you*