It's getting more harder to ignore the fact that, dare we say it, Christmas is very much around the corner. We've finally reached Autumn Equinox 2013 (22nd September) yesterday and the evenings will slowly be getting darker, the leaves will be gently falling off the tress and temperatures dropping, but the change in season doesn't mean a slow down for us at Sarah Flowers HQ, oh no, in fact, it just means another excuse to get our creative sides on.
More and more people are opting for combining Christmas with their special day and planning more festive weddings – not only is it a great excuse to get all your loved ones together but everything is a little more prettier when sprinkled in the glitter of Christmas. However picking your flowers for the December period is hard, with many of the more favourite flowers classed as out of season, you can sometimes be left disappointed or short of cash when you are charged for the more rarer flowers. Our faux flowers are a great substitute to the more difficult time of year because we do every flower, all year round and don't charge you any extra!
We have been coming up with some great, more festive floral treats to get you excited for your Winter Weddings;
Ivory Rose Bridesmaid Christmas Wedding Bouquet – £37.50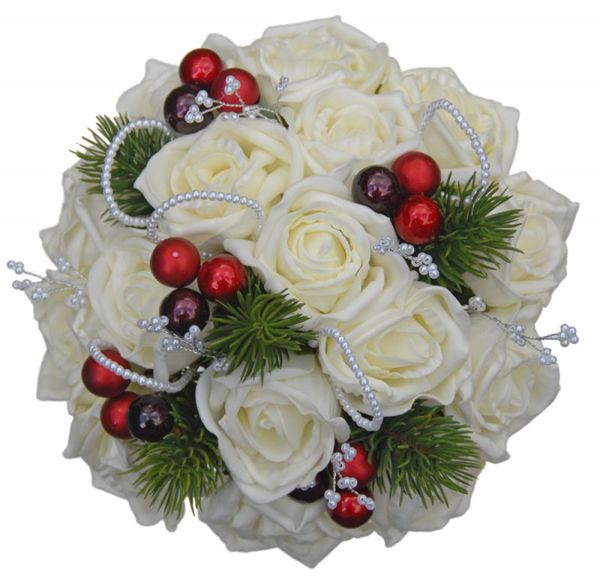 This gorgeous Bridesmaid bouquet is perfect for the more festive period. With the gorgeous festive green spruce foliage, some cherry red berries, snowy ivory roses all finished with gentle loops of pearl branches.
Frosted fruit wedding buttonhole £6.95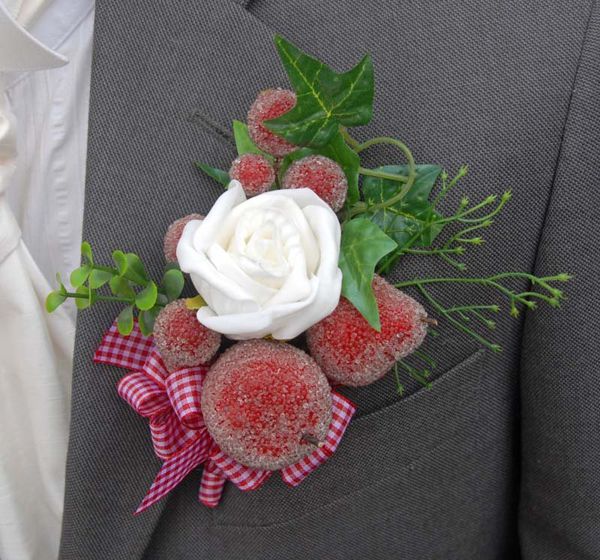 Let the groom and the male party get in on the festive action with this really cute frosted fruit buttonhole. What makes this buttonhole so different from the more traditional festive florals is the inclusion of the frosted fruits of apple, pear and berries – all looking like Jack Frost has touched them. The gingham ribbon looks nicely festive and wintry to finish it all off.
Christmas wedding shower bridal bouquet with cones – £93.50
This has to be our favourite of the Festive bunch. As well as similar factors of the above flowers, we've decided to up the Winter feeling by adding in some pine cones for more effect. This seasonal tear-drop bouquet is made with ivory foam roses, red budded roses, pine cones and lush green ivy and fiscus leaves – it is what Winter is all about, all in one bouquet. We can also specially make your Bridesmaid bouquets and buttonholes to match with our fully custom bespoke system.
These Festive flowers have got us feeling really excited for the Christmas season and we'd love to see what flowers you chose for your Winters big day? Feel free to send us pictures of your Winter bouquets to  contact us and we may well feature yours on our blog.