We are all about a nice bit of cake here at HQ, and if it's not a spot of tea and cake come 3pm, we are all about the wedding cakes. Trends do come and go and believe it or not there is such a thing as a cake trend (who knew!) The cutting of the cake is considered to be one of the high points in every wedding reception and therefore a lot of couples chose to have the cake as a main focal point – here are the top trends for the wedding cake world in 2013
Multi-tiered trends
Most couples are going back to the more traditional trend of multi-tiered cakes – with more classic taller tiers instead of the recently popular shorter tiers. Fruit cake is well and truly outdated with couples opting for more vibrant sponge flavours.
Taller cakes are often seen as more extravagant cakes, especially when they are fully displayed on the day – normally these are minimum order 4 tiers, however this number of tiers can work out expensive. To save some extra money, try opting for a dummy top tier to increase the height but save you money.
 
Vintage looks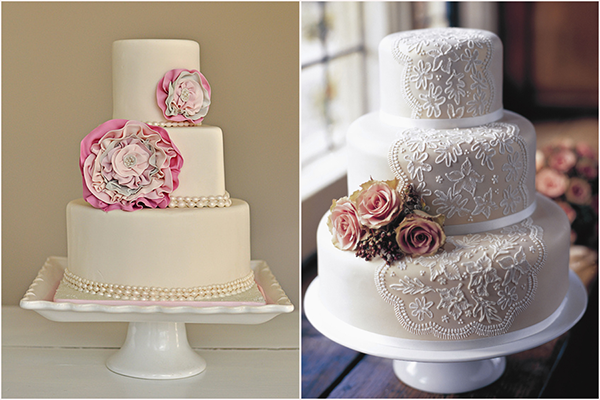 Vintage and classic styles are still hot news for 2013 and don't seem to be giving up. Pastel and ivory shades are the most popular, and with such a neutral shade it makes for the perfect base for floral decorations. Lace details are a massive trend on the vintage theme – it's soft and feminine. You can even personalise your cake by requesting the lace detailing from your wedding gown to be replicated on the surface.
If you choose to use colour make sure it is soft or even try ivory on ivory. Hand painted flowers are another big vintage trend, along with delicate line work. When it comes to ribbon, stay away from contrasting colours and try to match shades within the wedding.
'Different' designs
This one is for the more adventurous couple. Going for more obscure shape on your wedding day will definitely cause your wedding guests to stop and stare! Firstly you need to be sure about what you exactly want and possibly be prepared to pay a considerable amount. With the average wedding cake costing £700 a different shapes cake could cost somewhere along the lines of £1700.
This design of cake means you get to go a little wild with your own colours choices – do what you will with a completely bespoke cake made just for you.
There are so many different styles and flavours for cakes out there, make sure you find something that really does suit you as a couple, your style of wedding and your budget.
What type of cake are you having?