For us girls, do you remember playing dress up for pretend weddings? Using net curtain as a veil, putting your mother's shoes on and pretending to walk up the aisle that was the space between the two sofas? It is every young girls dream to be part of a wedding – they get to be involved in everything, have their hair done and wear a really pretty dress. Whether you're asking a daughter, young niece, sister or friends daughter you're bound to be making their very young dreams come true but the question is, what sort of flowers do you give them?
Flower Pomanders
We love how the flower pomanders look when carried by a young bridesmaid. Unlike Posies, it doesn't have to be held at any particular height and you don't have to worry about the angle at which the pomander is held for it to look good. All the lovely little girl has to do is slip the ribbon round her wrist! And remember to get the ribbon to match your colour scheme to really tie in.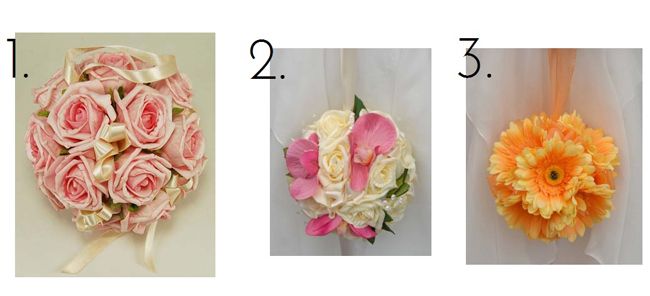 1 – Powder pink rose Bridesmaid wedding pomander
2- Pink orchid and cream rose wedding pomander
3 – Light orange silk gerberas wedding pomander
Flower Baskets
A sweet and inexpensive idea for the little-uns is to buy a cheap, perhaps old looking small basket with longer handles,that you can fill with either petals or smaller flowers. This looks so cute when it is being carried up the aisle and the handle can be decorated with ribbons in the same colour as the flower girls sashes.
And if the little one tired of carrying the basket, it'll make a great decorative item in the wedding venue!
Round Posies

A small flower posy is the more traditional bouquet for the flower girl and it looks so cute if it becomes a smaller echo of the Brides bouquet. Variety is key here, you can have pretty much anything you like in this smaller bouquet, but keep the size small so they aren't too heavy for the smaller girls.
1 – Ivory roses and burgundy satin small roses posy
3 – Ivory and cerise pink posie
Wands
A favourite of Sarah's Flowers, these Wands are perfect for your little flower girls – easy to carry, are lightweight, cute and really fun for the flowergirls to carry and play with! And if that wasn't enough these are super cheap!

Flowergirls are a really wonderful addition to your wedding and we think that by choosing any one of the above will make every little girls dreams come true!