Bridesmaids Handtied Round Posy Bouquet
These bouquets are easy to carry, and because they are artificial they are light in weight, they are a fantastic
present for the bridesmaid to keep as keepsake from your special day, and as shown in the real bride testimonial below can last for years after.

"Hi Sarah,
I got my flowers for my wedding in November 2010 from yourselves and they were amazing. Myself and my bridesmaids still have their flowers, mine are in a vase on my fire place and still look as stunning as the day i got them.
Thanks for everything
Nicola"
The bridesmaids bouquets have a ribbon covered handle which can be in matching or contrasting ribbon with a ribbon bow at the top of the handle.
Bridesmaids bouquets are round with a slight domed shape on top of the bouquet.
Some of our brides do opt to have the maid of honour bouquet a little larger then the other bridesmaids but not as big as the
brides. Depending on the age range of your bridesmaids eg if you have adults and children you might have to choose items that
match but are a little smaller in size. Or you might choose to have adult bridesmaids with bouquets and the younger flower girls with wands.
You do have the options of having a smaller bouquet to match the older bridesmaids.
All though brides sometimes choose to have different coloured bridesmaids dresses you could keep with the same style but change the colour to tie in with the dresses.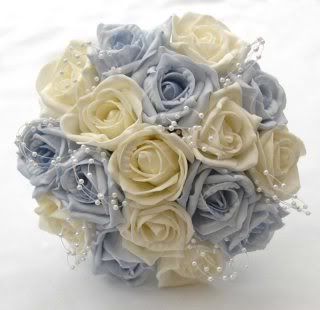 Wrist Corsages
Bridesmaids look gorgeous with all matching wrist corsages, the wrist corsages are elasticated with an ivory pearl band or tied on with a colour matching ribbon to the wrist.
You can opt to have both a bouquet and a wrist corsage on to save them from carrying there bouquets all day and while they are socialising with everybody at the wedding reception everybody will get a close up of how beautiful your wedding flowers are.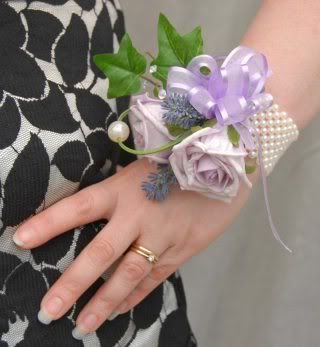 Flowergirl Wands
These are very popular choice with younger bridesmaids because they look like beautiful fairy wands and won`t mind holding them,  they are also very light for them to hold.
If using a wand for an older bridesmaid you may need to have a three headed flower wand as a single flower would look a little
small.
We also make the wands in two lengths, standard total length would be 10 inches but we can also make a shorter 6 inch size for younger children.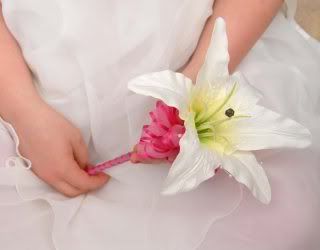 Pomanders
Pomanders are round like a ball shape and can be referred too as a flower ball, with a loop of ribbon to make them very easy to carry they can either be looped over the wrist or carried with the handle in the hand. Our model shown in the photo is 7 years old, but pomanders are also suitable for both older children and adult bridesmaids but look especially adorable with younger bridesmaids.