We all know that the good old UK isn't well known for its sparkling sunny, warm weather, dare I say it we here at HQ often have trouble believing what the weather people say, that's why it doesn't surprise us that more and more people are choosing to get married abroad.
The scene is well n truly set when you are in sunnier climes and with no extra stress and worry about whether the heavens are going to open or not, opting to go abroad for your special day is looking like a no brainer. Here are some of our top tips to creating your special day abroad:
• Weather is everything but bear in mind that even abroad the weather can be as unpredictable as her in the UK. Pick your destination wisely but researching into the average temperatures month by month, look out for average rainfall and hours of sunshine.
• Telling your guests as soon as possible is imperative. Obviously the cost of travelling abroad for your wedding guests is going to increase and by giving them as much notice as possible means you are more likely going to have the full number people you want there. People need time to save and to also plan their holidays. If you are unsure of where exactly, don't worry. At least have your date and destination fixed and then send those Save The Date cards out asap!
And for those guests who can`t make it abroad for whatever reason why not have a reception party when you get home.
• When planning who you want to come this is where it gets difficult when planning abroad. This is still your day and it's important to remember you should invite those you want there and not just those you feel you should have. Remember than when asking people to come to your wedding abroad that some people may not simply have enough money to do it, but don't feel disheartened – you can always opt to throw a mini bash when you are back in the UK. Various travel agents may have special arrangements for getting your guests to your wedding.
• Getting the legalities right is sometimes a minefield. Make sure you do your research properly! Each country has its own laws on wedding ceremonies and getting hitched – some may even involve you being a resident of the country for a particular amount of time before you can even get married there! However sometimes you may be able to have a blessing overseas and make it legal back in the UK.
• Remember to enquire at the destination you pick whether they have an onsite wedding coordinator. They will then help with all the main parts of the planning and you will then have less to worry about and fly over!
• Flowers are a tricky one when marrying abroad. Some people will choose to use local fresh flowers but be extra careful when placing orders and handing over money! Think about choosing our artificial flowers. Buying from us in the UK prior to your wedding abroad gives you a sense of calm – being artificial you can order them way in advance of the wedding and before you fly out to make sure that it is all perfect for you. Our flowers don't wilt in hot temperatures either, so no worrying about whether your chosen flower will droop in the sun.
Our advice when choosing colours for abroad wedding? Pink and orange always hold their own in the sunlight and yellow can look amazing against a blue sea. Our favourites: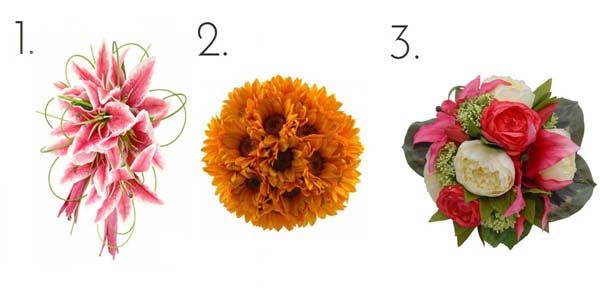 1- Brides Lily Shower Bouquet In Cerise Stargazer Lilies
2- Golden sunflower hand tied bouquet
3- Bright pink tropical bouquet
Getting married abroad can be an amazing thing and we'd love to think of our bouquets being flown to somewhere exotic, but please remember o research and research! For even more information, this little video from Sandals Resorts might help!
YouTube video: http://www.youtube.com/watch?v=MV_Dmwr8koM