It's official Brides and Bridegrooms, the humble peony is on fine form this year, oh yes, 2013 is the year of the peony.  I know some of you may be looking at me blankly and wondering what the hell I'm talking about but seriously, the sometimes dismissed peony has been the most requested fresh flower for two years, but the classic peony is only in season for two months out of the year – makes for a problematic choice right? Well, no. Sarah's Flowers has your solution 365 days a year!
Y'see we have endless selections of peonies, in every colour, every style, and in every combination – we have literally solved every peony-related problem!  At Sarah's Flowers we love the peony; it's a flower that is both simple but effective and eye-catching. With its soft features, there is something very romantic about the flower – classically simple, all that is needed is the right colour, and the right bouquet – this is where we come in.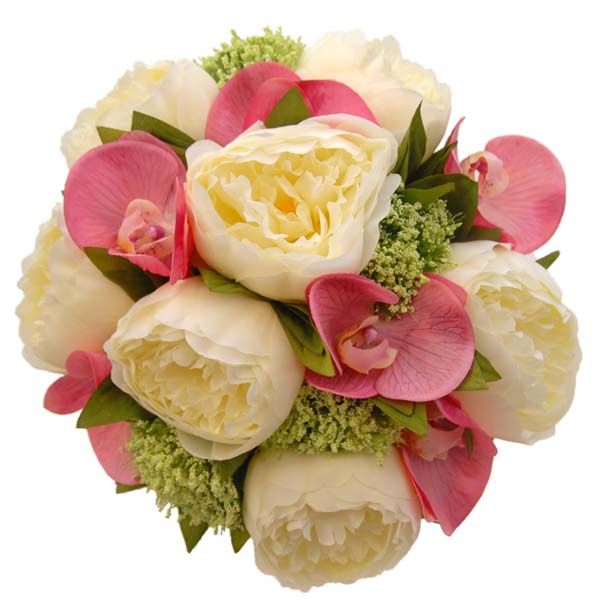 Peony, Orchid and Trachelium Bridal Bouquet
This round bouquet is bursting to the seams with cream peonies that are layered and light green peony leaves, to finish the bouquet off with pink orchids and ivory trachelium – a perfect serene looking bouquet. Priced at £56

Purple Orchids & White Rose Wedding Bouquet in Artificial Flowers
This is a great example of a coloured peony and not being afraid of packing the flower choices into just one bouquet. Featuring white roses, purple peonies, purple orchids, and purple trachelium and if that wasn't enough there is pretty green foliage to make this bouquet really pack a punch. Priced at £62.50

Grooms Artificial Vintage Cream Peony Buttonhole with Pearls
I love this exquisite coloured handmade peony buttonhole. This vintage cream peony is just beautiful and would be perfect for a vintage themed wedding. We like to think the colour makes this particular peony look so delicate. Don't forget we can create the same peony in a bouquet if you wish, just pop us a custom order requirement form through. Priced at £5.25

Ivory Peony Bridesmaids Bouquet
This Bridesmaids bouquet is all about peony because quite simply, it is only peonies in the bouquet. Delicate ivory in colour with a sheer ivory organza bow and really pretty pearl detail, a total snip priced at only £28.00
It's about time the peony had its day that's for sure, and doesn't it look pretty! Would you choose a peony for your wedding day?