Along with getting in touch with our more wintry side, the HQ at Sarah's Flowers have been getting all sparkly!
Maybe we've been over-doing it by watching too much Strictly (addictive viewing right?) or maybe it's because Christmas is getting closer, but all in all, we have been hooked on all things spangly and have beem on the look out for all things sparkly to adorn the female wedding party. Granted there are copious shops along the high street that can help bejewel the wedding congregation but there is nothing nice about being generic on your wedding day. We like to think of each wedding and each bride to be individual and special and therefore deserving of jewellery to match this feeling, and this is exactly the vibe we get from the following site: Rose and Aster  www.roseandaster.com* created and run by the rather fabulous Sarah (great name!) Spence and launched in 2010 Sarah took a dream and made it into reality by setting up her gorgeous jewellery shop online and all run from her log cabin showroom in the Chilterns. Along with jewellery that you'll want to wear on an everyday basis, Sarah's range of affordable but luxurious bridal jewellery is second to none.
With everyone's belts being tightened, we know that people are looking towards more affordable options when planning their wedding, and despite the jewellery looking nice on the day, not everyone has a massive budget. This where Rose and Aster fit into the market! All of us at Sarah's Flowers have been eyeing up nearly everything on the site and here are our favourites: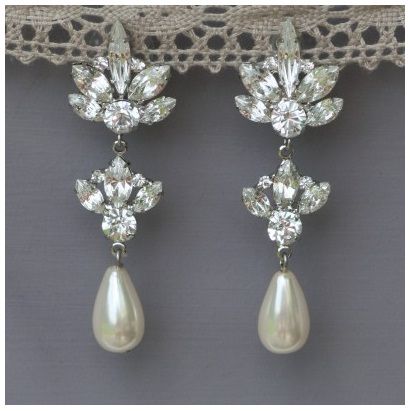 http://www.roseandaster.com/blank/art-deco-crystal-pearl-drop-earrings/*
Art Deco crystal and pearl drop earrings
£30
These two tier earrings look like they have been passed down from generation to generation. With stunning dramatic crystal placed at the top of the earrings all leading down to the very pretty drop of the pearls. These will create a real statement for the bride and would look amazing either with the hair pulled up or left cascading down.

http://www.roseandaster.com/blank/crystal-ivy-necklace/ *
Crystal Ivy inspired necklace
£88
We just love the look of this vintage-esque necklace that sits higher up on the neckline. With a classic and timeless feel this necklace will create a striking look when paired with a strapless gown.

http://www.roseandaster.com/blank/crystal-flower-pearl-bracelet-in-vintage-cream/
Crystal and flower pearl bracelet
£18
This bracelet is a brilliant option for Brides and bridesmaids alike. Simple and extremely delicate this one row of ivory glass pearls with flower crystal will not only look stunning on all your bridesmaids but it will also make an affordable gift that will be worn again and again.

http://www.roseandaster.com/blank/vintage-style-crystal-lotus-flower-hair-clip/
Vintage style crystal lotus flower hair clip
£60
This is perfect for those 'up-dos' instead of favouring hiding the clips this crystal lotus flower clip looks exceptional for your big day. Heavily covered in crystals yet still looking delicate – a hard combination to pull off.
Overall we are big fans of Rose and Aster here at Sarah's Flowers: affordable luxury for us all.
Go check out the website at: www.roseandaster.com or follow her twitter: @roseandaster
*please note: all photo's courtesy of Rose and Aster's website*