It's all very good us sitting here telling how fab our flowers are but in reality when it comes to making the big decision of picking your wedding flowers words are a little meaningless. We take great pride in making sure the type of flowers we pick to go in our bouquets not only look good but have real meaning to them and it takes real work to make sure those flowers give you something a little more, adding a new level to not only your flowers but your wedding as a whole.
So, what flowers are on our books then? Well, the list is endless with us, but some are more popular than others, some have more meaning than others, and some are just show stoppers, but the even better thing with Sarah's Flowers is that you can get any of our flowers all year round, none of this waiting to pick a flower in season. Our flowers are here for you, all year round.
Here are our favourite flower picks
1- £45.95 Bridesmaids Bouquet in White, Ivory and Pink Flowers
2- £50.60 Bridesmaids Bouquet Cream and Cerise Roses and Lavender
3- £104.50 Artificial Shower Bouquet with Mixed Roses & Lilies
The Rose:
Everyone's classic wedding flower, the rose can do no wrong. It is worldly known that the rose means love and is often given to friends and loved ones as a sign of our feelings. An orange or coral coloured rose represents pure desire and passion, and a yellow rose means true friendship and obviously, a classic red is true, unadulterated love.
The rose is the most versatile flower as all its stages of flowering are equally as pretty, and roses will match well with nearly every other bloom. Most roses can be dyed to any shade and here at HQ we can make sure we create just the right shade of rose to suit your colour scheme or theme.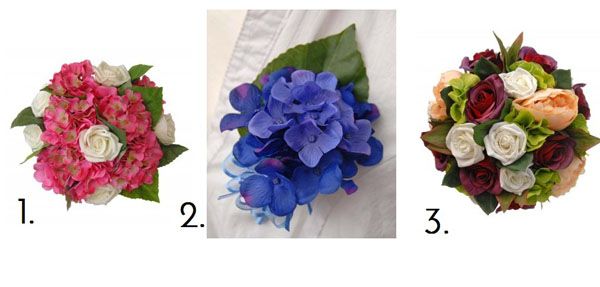 1- 39.75 Pink Hydrangea & Ivory Rose Bridesmaids Wedding Posy Bouquet
2- 3.75 Hydrangea Wedding Buttonhole with Cornflower Bow
3- 69.58 Bridal Bouquet with Vintage Peony's and Roses
The Hydrangea:
A personal favourite of ours, the Hydrangea is a well-rounded flower – the large flowers have lots of tiny blooms that give it the form of a mop head in appearance.  In real life the flower of a hydrangea can sometimes be determined by the type of soil it's planted in, however instead of leaving it to luck, when you order from us you can take your pick of colour – we currently have six for you to choose from.
So what does the hydrangea mean? It symbolizes heartfelt emotions so pretty much perfect for your big day.
1- 39.95 Bridesmaids Bouquet in Mixed Silk Anemone with Beads
2-  £84.10 Grouped Flower Bridal Bouquet in Mixed Colours and Foliages
3- £40.70 Bridesmaids Bouquet in Silk Cerise Pink Anemone and Purple Handle
The Anemone:
We love the meaning of the Anemone – 'unfading love' how romantic does that sound? The anemone looks so delicate – with its thin, almost see-through light petals that in real-life are quite often too delicate to use as part of your wedding but with ours, they are silk, lasting you as long as you want them too – always looking fresh. The anemone catches people's eyes and can make a good focal point for all bouquets as well as buttonholes.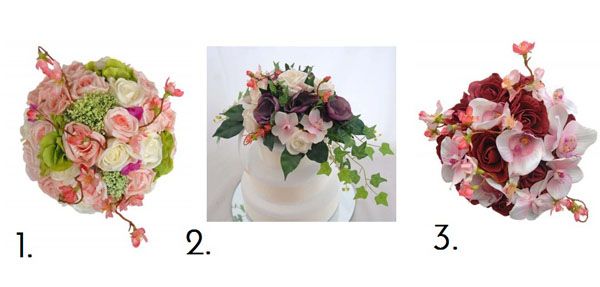 1- 81.00 Brides Pink Mixed Bouquet with Cherry Blossom
2- 42.95 Wedding Cake Arrangement in Mixed Flowers
3- £51.15 Burgundy Roses, Pink Weeping Cherry Blossom Posy
The Cherry Blossom:
Part tree, part flower,  the Cherry Blossom is not your usual bouquet or wedding flower but can add a nice finishing touch to the top of, or inter woven through the bouquet. Know to Japan, the cherry blossom has come into its known, and there are well over 150 varieties. Giving a nice oriental feel to a wedding or bouquet, the woody stems with tiny rose coloured blooms that don't quite look like anything else.
All our flowers are chosen with you in mind, we like to think our flowers will help tell your story.