Time for a catchup here at Sarahs Flowers – time often flies, we can't believe we are heading into June already – where has the year gone?
We've been so busy over the last couple of months here at HQ – we work continuously to keep adding new designs and styles to our bouquets to make sure we can tailor for every style and colour scheme of wedding – we like to think it's what we're good at. For those of you who don't often get to log onto the website as often as you'd like, then here is our May round up of everything we've been up too:
• Our Flash Sale is still going on! Oh yes, get 10% off every online order. That Brides bouquet you've been looking at – 10% off, those buttonholes you've been wondering shall I? Shan`t I? Well, 10% off! But do hurry people, it is only for a limited time! Click here for more info.
• We've created our very own ray of sunshine with this superb Brides bouquet. Filled to the brim with sunflowers, buttercups, calla lilies and dill this bouquet is perfect for the up and coming Summer weddings. Would look great teamed on any nature inspired wedding. Priced only at £77.50
Brides Bouquet of Sunflowers, Buttercups, Calla Lilies and Dill
• Barn weddings are proving very popular lately and to help with the more rustic approach, Sarah's Flowers have created a really different, but beautifully simple bouquet: Dried wheat bouquet. Teamed with a mocha ribbon, don't forget you can get matching items for your bridesmaids and groom!

Brides Natural Dried Wheat Wedding Bouquet with Mocha Ribbon
• Our shower bouquets have gone bigger and better! This stuning purpole orchid and cream rose shower bouquet is a bit of a show stopper we think, if the sheer size and beauty wasn't nouh, then how about the diamante centres of some of the Chloe roses. Priced at only £119.00 you are getting a lot for your money for sure!

Artificial Purple Orchid & Cream Rose Bridal Shower Bouquet
• Something for the very important Bridesmaids – this brooch bouquet will show your favourite girls off to a tee. A simple, classic bouquet is shown off with a glittering silver brooch centralised on the bouquet. Priced at £69.00 with the 10% discount – making it an ideal time to buy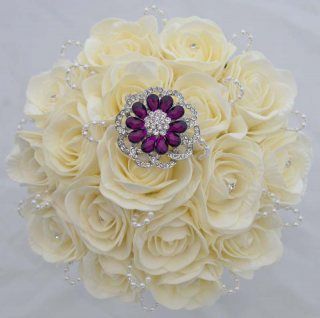 Burgundy Brooch Bouquet with Ivory Isabel Roses
• Corsages are often overlooked but with this dark silk anemone and lilac rose they certainly won't be at your wedding! These fabric corsages make for great lasting wedding favours for people to keep also!

Dark Purple Silk Anemone & Lilac Rose Wedding Corsage
• We've had two new customer testimonials for the month of May! It is so lovely to hear back from our very valued customers – it always finishes the stories off so well! Go have a read of this months and the others here and if you have your own, please do send them in to sales@sarahsflowers.co.uk We'd love to hear and see pictures from you!
• We've recently updated our Awards page! Yes, Sarah's Flowers are award winners! Go check out the page here.
That's our May news done, but time to get prepared for a bumper June and when wedding season well and truly kicks off! We hope you all had a good May, why not drop us a comment and let us know what you're up to.