Getting married on 14th February "Valentine's Day"  then red roses are the first choice for a romantic red themed wedding. With ruby red hearts and splashes of red everywhere.
Here are 10 ideas for your red themed wedding day…
1. Red Wedding Shoes
Absolutely stunning and bold colours are bang on trend for 2013 with brides opting for coloured shoes instead of the white or traditional ivory, you will also be able to wear again and again if desired.

Jimmy Choo Quiet Peep Tose Pumps
2. Sweet Table and Chocolate Fountain
Red and pink sweets with shoe laces, red hearts, pink marshmallow the selection is endless. Complementing  the sweet table with a dramatic chocolate fountain centre piece with red romantic strawberries now available all year round.
3. Large tall and thin vases with red roses tied with ribbon are a low cost and elegant table decoration, giving the guest tables height and they also make a fantastic present to give to love ones at the end of the day. Added bonus if you have artificial flowers they can last forever and be a constant reminder of your special day.
4. Wedding cake of cupcakes with little red hearts to carry on your romantic theme, a novelty for the children little heart rings used for decorations in the cakes.
5. Wedding favours sweetie themes love heart, printed rock and heart chocolates.
Little red favour bags with sweets, favour boxes tied with heart ribbon and handmade lolly pop sticks.
6.  Finishing touches to you wedding tables , sprinkle red rose petals or red heart confetti or red table crystals. DIY cut out hearts with guests names and romantic themed table names or places.

Red Mini Crystal Diamante Wedding Table Gems
7.Your bouquet red roses foliage with added light catching crystals extra special touches silver heart ribbon buckle, red swarovski  in between the roses adding a vintage style why not add a red brooch.

Brides Bouquet of Large Red Roses with Loops and Diamanties
8.  Hair with an up do hair style, accessories with red hair pins perfect for any hair colour and easy to place in the hair.  Or for loose hair a red hair band.
9. Nails extensions or your own if you are lucky, a must have bright red delicious red nails and don't forget your matching toes as by the end of the day your feet will have had enough and the shoes may need to come off.
10.Traditional garters are blue from something old or borrowed and new, garters are available in red with a sexy devil twist perfect for your valentines day wedding.
Love Sarah x
P.S. A special number 11, don`t forget the Groom.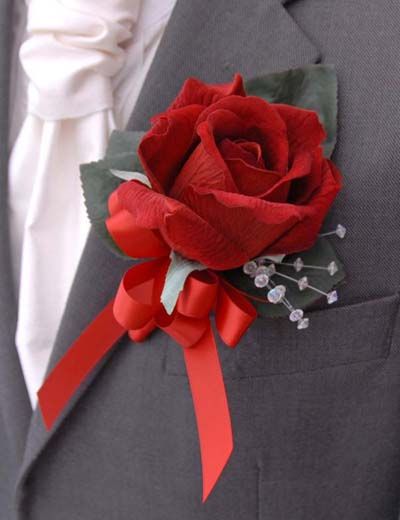 Grooms Large Red Rose Buttonhole with Red Bow and Crystals