We all know that the modern bride likes to change her mind, and we all know that in this day and age having your wedding 'different' from everyone else's is a selling point rather than being a negative in the days gone by. Whether it be the bride's dress, the grooms shoes, the décor at the reception, food choices or even choice of music, and I don't know about you, but not always do these 'varied' choices pay off – think Jordan's toilet roll holder dress, that wasn't such a smart idea right!? One area you can choose to push the boundaries is your flowers, the detail in your flowers is always slightly more subtle than say, your dress, meaning going for that added 'something' in your flower choices, usually pays off. 
Here at HQ we have been a little bit overly excitable, not just for the sun showing its head, but for the opportunity to show off some new flowers in our ranges and these three bouquets certainly add a certain something 'different' to the normal flowers with a little help from cherry blossom. Normally used in an 'oriental' theme, Cherry blossoms are beautiful, delicate and somewhat tricky to grow and are used even more rarely in wedding flowers due to the inability to make them last, but here at Sarah's Flowers we have them here for you, 
First up is the Chloe cream Bridal bouquet with orchid cherry blossom CHL77
This bouquet just screams 'look at me' with its delicate cream diamante roses that act as a traditional background to the vibrant deep purple of the orchids, all delicately covered with stunning pink weeping cherry blossom. With the handle carefully covered in luxury organza and fastened with the addition with a sparkling diamante. This bouquet looks delicate, dainty and feminine.
Secondly the cherry blossom, orchid and rose bridesmaid bouquet CHEI11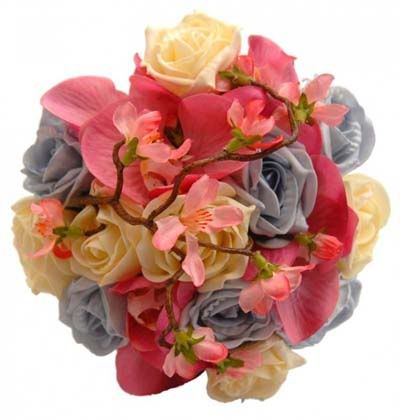 This bouquet is my personal favourite – it really zings and would really suit a spring time wedding. Light blue and cream roses, matched with a girly pink orchid and the cherry blossom gently working their way round the buds. Underneath the bouquet, features a lush earthy green fiscus and finished with a bow.
Lastly the Pink Cherry blossom roses and trachelium bridesmaid's bouquet SIL02856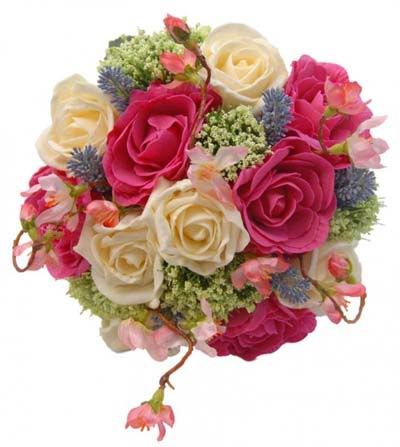 This bouquet is stunning and even though it is for Bridesmaids, would look absolutely stunning matched with a cascading bride bouquet. As well as the traditional cream rose, there is a real punch with the vibrant cerise pink rose. Add in some sumptuous purple lavender and once again, all finished with the cherry blossom. The cerise handle really gives this bouquet some definition.
Aren't they all gorgeous?! We can't stop staring at them here in HQ and it has helped cherry blossom play a vital part in forming some special looking bouquets with the added bonus of being able to keep cherry blossom alive far longer than the natural kind.
Do you like cherry blossom?