It used to be the venue, it used to be the dress, but now it seems your feet are doing the talking! The girls here at Sarah's Flowers HQ are all about the shoes lately! Normally traditionally shoes never really got a look in with the full lengths of wedding dresses, but lately there is a real trend for going it short, getting the legs out and showing off the shoes! Not only are the long line dresses going out, but we seem to be saying a fond farewell to the rather dull plain cream flat shoes often worn by the Bride to be: instead the heels are getting higher, the colours are getting brighter and there is more bling than you can shake a stick at! I don't know about you but we can't think of anything more brilliant that choosing to pimp out your shoes: less pressure to fit in your dress, less palaver over choosing the exact right one, instead shoes, (glorious shoes) will always fit and boy oh boy, they will look amazing.
Never one to miss out on a bit of shoe staring, here at HQ we have fallen head over our heels in love with the Wedding Range from Dune Shoes. A firm High Street favourite visited by many, imagine HQ's surprise when we took a glimpse of their wedding range – whit woo indeed! With every style imaginable, the shoes really are something special. From mid height heels to skyscraper platforms, bejewelled or brightly coloured there is something to suit every single type of bride that you want to be. And if that isn't enough to make you stop and stare, we were blown away with the prices. Compared to some specialist wedding shops, Dune prices are incredible and with regular sales you might even be able to save some much needed money to put towards that all important honeymoon!
Here are our top picks from the lovely Dune and take a look at how we would team them with our flowers – perfect combo we think!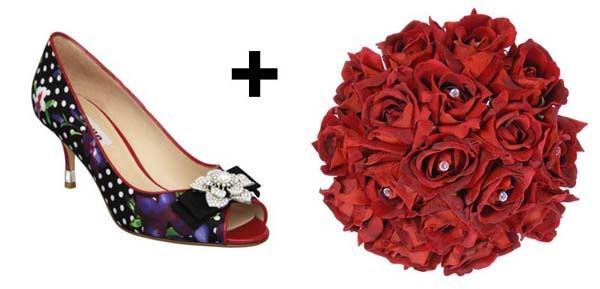 Shoe: Dune DORK spot flower shoe £85.00
Flower: Large velvet red rose diamante bouquet £43.50 (LAR07)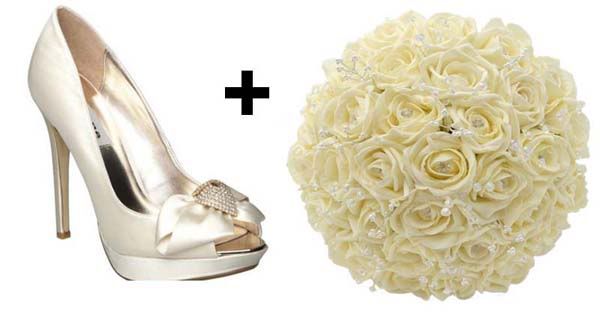 Shoe: Dune Deeva D shoe £44.00
Flower: Diamante Ivory rose and crystal bridal bouquet £51.75 (CRYS669)
Shoe: Dune Hooch Diamante 2 part heel £110.00
Flower: Ivory Silk Casablanca lily and cream rose bouquet £46.00
What do you all think – are 'look at me' shoes the way forward?
*All shoe pictures from Dune http://www.dune.co.uk/*