As its January and a fresh new year it's round about now that we start to look at the new trends that are starting to show themselves and one trend that is hot stepping it to the forefront of every bride and bridegrooms wedding planning list is signage.
From affectionate photos to showing off vital instructions, Wedding signage is becoming more and more prevalent and you know what, we love it here at HQ. It is case of taking something so simple and almost generic and completely turning it on its head and turning the humble sign into a pivotal part of your dream wedding. So what do you say with your signage? Well we like to think there are two main categories when it comes to signs at a wedding: there is the more informative sign that is practical, telling your guests where to go and what they should be doing and then there is the more fun sign that really is there to make your day look amazing. So what's best thing about using signs in your wedding? It is cheap and so easy to do yourself! Still not sure what signs to include at your wedding? Well here is our top guide for saying it all…
Practical signs
1, We all know that you have spent months and months planning every little detail of your dream day but your guests won't have a clue of those little details. Think of some of the more 'boring' but necessary information that your guests might need to know like diretions to the reception, or signposts to where the ceremony is going ahead – sometimes the ushers have a little bit too much to do.
2, Think of some less than necessary signs like perhaps showing where your guests can leave gifts and cards, or where the bar is. Remember the more signs the less time you have to spend showing everyone where everything is!
3, We all know how much the printing of wedding stationery can be and in order to cut costs why not think about using a larger sign for things like the order of service  – situate this sign in the entrance area of the venue so your guests can still get their breakdown of the day.
4, If like us, you are thinking of having some of the more quirkier ideas at your reception, using a sign to instruct what your guests  are doing. For instance photobooths are a super fun addition but not everyone is familiar with them so instructions on how to use would be great! Have a sweetie bar? Well  put a sign up inviting your guests to 'help themselves' Guests can sometimes feel a little awkward at weddings so remember to try and make them feel at ease, using signs is a really relaxed way of doing this.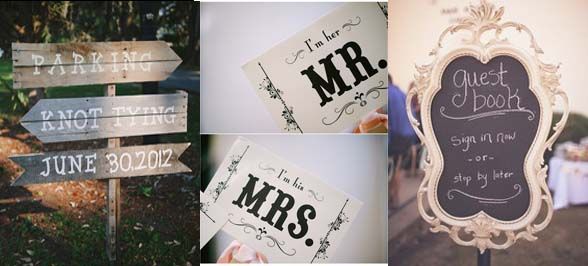 Decorative signs
1, Decorative signs anywhere and everywhere in mix and match fonts can make for a really cute addition to your big day  – think loud and proud
2, Small hand-held props can make for brilliant photos – His and Her signs are amazing! They can also be added back to the photo booths for the evening.    
3, Choose to display your initials or new surname, wedding date or even the story of how you both met – choose something that is personal to you both, letting your guests in on this 'secret' is a real nice intimate way to let them in on your special day.
So, now you know what signs to make, how do you do it?
1, For a more rustic style wedding look for textures like yarn, nails, hessian or wood. You can even make your own sign from reclaimed wood or old fence panels!
2, For a more modern take on a wedding, look for typography that is a little unusual – then get printed on a luxe surface. Metallics work really well for a modern wedding.
3, Remember if your sign is providing just decoration, then just go a little nuts with colours and fonts. But if you're trying to convey important information and message s then make sure the signage is clear and straightforward.
4, Why not try a blackboard! They are so cost effective and can add something really fun to any signage you might have on your big day, you could even use the same blackboard throughout the day but conveying different messages and even better if you have any last minute changes!
5, Last but not least is thinking about how you're going to hang your signs – are you going to lean them up against a tree/pillar/door , are you hanging them up? Or possibly help up on an easel!
We happen to love all kinds of signs to decorate your big day, remember there is no wrong way of doing this! Tell us your fun ways to 'sign' your wedding  day up?