I know we talked about one theme earlier in the week HERE but without blowing our own trumpet Sarah's Flowers really know just how important it is to achieve the look and feel you dreamed of, on your one special day, your wedding. The theme of your wedding say's so much about you and only specialists in this area i.e. US, can begin to know just how important. A theme that is often a taboo subject is that of black and white. Now we all know that well, err, 'black' isn't what you would call your most traditional colour for a wedding and well some might even say it's slightly morbid – but our team at Sarah's Flowers love it!
Teaming Black and White gives your wedding a certain 'catwalk' feel: it's alluring, fashionable and decadent, a black and white themed wedding really does give any wedding a certain Hollywood feel about it all and let's face it, if your wedding day isn't the time to show off then when is?! For all of you who are still a little unsure, may we continue!
Aside from being very stylish, we like to think there is something deeply romantic about teaming a pure white with a striking black – it really does catch people's attention. Now before you all get carried away and go black crazy, take a look at our Brides Ivory Classic Diamante Rose and Black Organza Ribbon Bouquet (BRID7) there is a real gentle hint of the black in ribbon bows mixed in the bouquet, we like to make sure the purity of roses stand out but allowing the black ribbon to add a real depth to the bouquet and if that wasn't enough, the diamante details in the centre of the roses are just stunning, here at HQ we do get excited over a good Diamante! The gentle use of black can be subtly carried through to the bridesmaids with our Ivory Rose and Black ribbon Bridesmaids posy (HANY11) Slightly smaller but still just as elegant, this posy will look amazing when photographed along with the bride – a real paparazzi moment!
If you think that was it, then you have yet to see our vast range of black décor accessories – from balloons to delicate organza ribbon that can hang and wrap around bannisters and doorways. Plates to the all-important table gems that always look amazing when scattered over the tables, go take a look for yourself! There really is nothing we can't do to make your black and white themed wedding perfect, apart from maybe calling you Mr and Mrs Brad Pitt!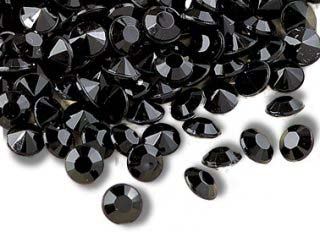 We know we've convinced you!
Would you consider using black in a wedding?