*INTRODUCING*
The Brooch Bouquet Range
Introducing the new Limited Edition range of bouquets from Sarah's Flowers.
Taking our inspiration from creating a 'forever' bouquet for brides that will last for years and act as a keepsake the Brooch Bouquet range was born.
The Brooch Bouquet is quite literally a floral bouquet with the addition of exquisite gemmed brooches. These hand crafted bouquets are made from sparkling and enamelled vintage and vintage style brooches – each one is individual and teamed together with the addition of our artificial flowers, these bouquets are special and can mean so much to each and every bride. Each bouquet has the delicate use of jewelled colours: purples, bright blues, vibrant oranges and clear silvers, this range of bouquets adds something really unique to any wedding and these bouquets will be lovingly cherished for years to come, proving to be a lasting memento for your special day. With satin ribbons lining the handle making for an elegant and luscious, all tied together and finished with a sparkling brooch on the handle.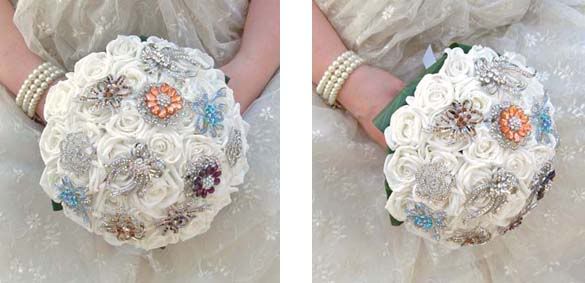 The range starts from only £245.00
These bouquets are by far the most competitively priced on the market – we believe that having your dream wedding shouldn't cost the earth.
*For samples, Images and further information please contact Sarah's Flowers at: sales@sarahsflowers.co.uk
or give them a call on 0121 705 4883*