I love cake, I know the whole of Sarah's flowers HQ love cake, and I bet you love cake – I'm right aren't I? So on your big day, the cake is a big deal right? Gone are the days when we only had one choice: a traditional fruit cake that had 3 tiers and was all white icing, now in 2012, the years have given us so much more choice, design, styles, flavours and ingredients: the list is endless.
So why is the cake such a big deal you ask? Well, aside from the vows, exchanging of rings and the first dance, the cutting of the cake is one of the main events at a wedding. Surrounded by all your family and friends, every eye will be on you cutting that cake – It's one of 'the' most photographed things in the wedding and as well as being every photographers dream, the cake is going to sit proud at the reception throughout the entire event, with people ooh-ing and aww-ing all over it – oh and did I mention everyone loves a bit of cake!?
Here at HQ we've been putting our thinking caps on and researching all the possible cakes on offer, and even now I don't think we've reached the end! Tradition is, the cake represents the colours that are running throughout the wedding theme and some couples like to stick to the traditional tiered cake, but there are some more adventurous among us, and for you here are some more diverse options:
• The cupcake tower –everyone loves having their own individual cake and with a cupcake tower everyone gets their very own. Normally stacked up high, the top cake can be either a plain round/square cake or even a giant cupcake. The beauty of these little lovlies is the decoration can be different on each cake or using alternate colours.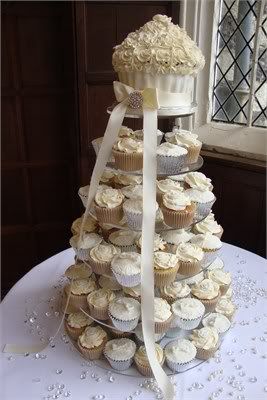 • The fun tier cake – think bold, bright and non matching! Go loud and proud with this cake, featuring heavy decoration with fondant icing and top with some personal feature that represents you as a couple!
• Having more than just one cake! Oh yes, sometimes one just isn't enough! Choosing a second tiered cake can help with feeding a large crowd and also draw gasps of awe from your guest – this is more of a centre piece than just a cake!
• Chocolate overload – Not normally a typical cake to have on the outside as well as the filling, but try going for a cake that is layered in chocolate curls, chocolate cigars, or chocolate sticks for a more structural cake – this cake holds its own
• The 'as many as you like' cake! Instead of choosing the same type of cake for each tier, how about adding a completely different cake altogether? A different and diverse take on the traditional – this cake does well for the more vintage themed wedding
• A modern take on a classic – by sticking to the traditional white coloured tiered wedding cake there is some nice decorating ways of bringing it right up to speed: with swirly ganache!
• A topsy –turvy cake – this one looks wrong but is oh so right! With it's slightly off balance look there is something really eyecatching about this cake! Team it with coloured and decorated fondant icing. This is a firm wedding cake fave for us here at HQ.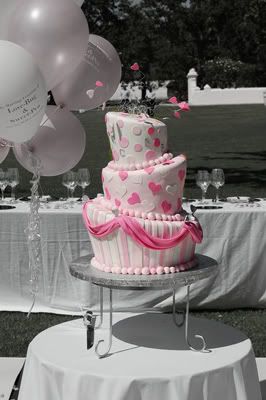 • The cheese cake – err… yes, no cake whatsoever, well not of the sponge variety but slabs of different cheese, formed to make a cake. I'm not so sure we're sold on this idea yet.. smelly
Either way, going for a cake that represents you and your partners style is the most important thing and lets face it the cake is a bit of the wedding that everyone gets to enjoy, and well, we all love cake right!?
And don`t forget here at Sarah's flowers we can make a matching cake decorations to go with your wedding flowers.
What wedding cakes do you like?
Oh and don't forget, we are offering you the readers off our blog an amazing 15% off all new orders to the end of July 2012 ONLY – simply enter the code: BLOG15 at the checkout and Ta-Da – money off for you! This offer ends on 31/07/2012 so hop to it!
*cakes 1-7 pictures courtesy of http://www.hitched.co.uk cake 8 picture courtesy of http://www.thecheeseshed.com *