Showcasing 4 of our brand new artificial wedding day hair combs that would be suitable for both brides and bridesmaids.
Hair Comb one
A lovely delicate hair comb, with light ivory pearls, beads and clear seed beads.
The beads form a beautiful bow with trails, the edge of comb is covered in ivory sheer organza.
The stunning hair comb was featured in Wedding ideas Magazine issue 113, on page 231
Measurements of Pearl Bow
Width:-2.5 inches
Length:- 2 inches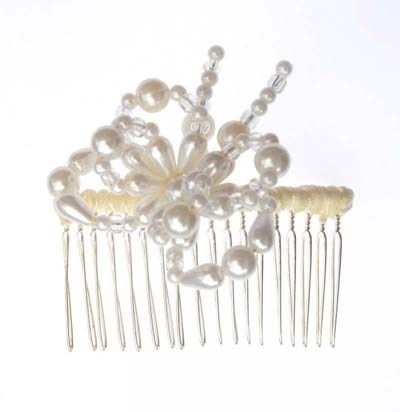 Hair Comb two
Bright and bold is this stunning cerise pink stargazer lily hair comb,
featuring in this wedding hair comb is a stargazer lily in a bright pink and white colour.
With the stem and comb ribboned in pink sheer organza ribbon.
Measurements just the stargazer
Width:- 8 inches
Length:- 5 inches
Hair Comb three
A tropical coral orange wedding day hair comb,
featuring in this hair comb is a stunning bright coral orange silk orchid.
The comb has a small coral organza bow and the comb has a matching ribbon.
Measurements
Width:- 3 inches
Length:- 3 inches
This hair comb has also been featured in Wedding Ideas Magazine, Issue 113 on page 283.
Hair Comb four
Another tropical style hair comb, this time with two silk pink orchids.
Measurements
Width:- 3 inches
Length:- 4.5 inches