It may be the Olympics and you're all glued to the TV waiting for our very own Team GB to bring the medals home, well here at Sarah's Flowers we have our very own medals on offer for you and no, we're not asking you to run a marathon or swim 200metres butterfly!
We're really proud to announce the launch of our new Limited Edition Brooch bouquet. We spent many months, days and hours dreaming up a collection that matched our inspiration: we really wanted to create a lasting bouquet that would be even longer lasting than our artificial flowers and manage to create a keepsake that you can keep and cherish for years to come. The brooch bouquet was born – It is quite literally your chosen flowers with the addition of exquisite gemmed brooches.
We spent so long hand crafting these bouquets, thinking of different ideas and colour combinations, all with sparkling and enamelled vintage and vintage style brooches each one is individual and shows off some delicate use of jewelled colours: purples, vibrant oranges, clear blues, and playful pinks. Here at HQ we like to look at the longevity of weddings, because let's face it that's what's all about, and we think these unique brooches are something that will grow into a lasting memory of your special day.  
We are pleased to show off the first three additions to this range – all delectably different but classy.
First up is the Multi Coloured Bridal Brooch Rose Bouquet  (MUL3440)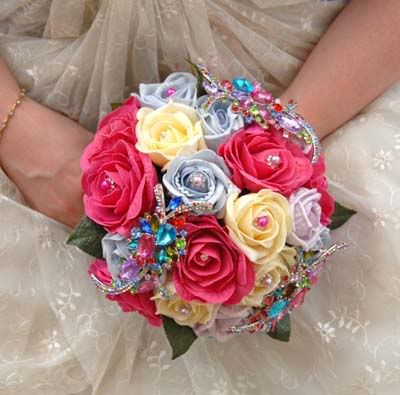 This zingy addition features our gorgeous cerise open Isabel roses, light blue Chloe roses with some classic cream roses as our floral additions, adding in three stunning vintage brooches with an array of multi coloured gems. This is a nice vibrant and girly bouquet with some sugary sweet tones blasted away with the vibrancy of the gems.
Secondly is the more traditional White Rose Bridal Bouquet with Crystal Diamante Brooches (WHIY440)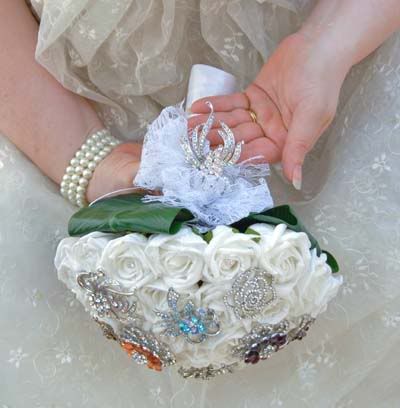 Our traditional and classic option, this delectable pure white rose's bouquet, all hand tied into a round posy bouquet with a vast selection of both clear and coloured gemmed brooches. The key with this brooched bouquet is the way the light catches the gems against the stark bright white roses. Underneath the bouquet are some lovely bright earthy green Musa leaves, the handle is delectably wrapped in white satin ribbon and a white vintage lace bow.
Lastly is my fave, I know I'm not supposed to have any but the Amethyst Brooch Bridal Bouquet in Reds, Pinks and Ivory really is just beautiful (AME2440)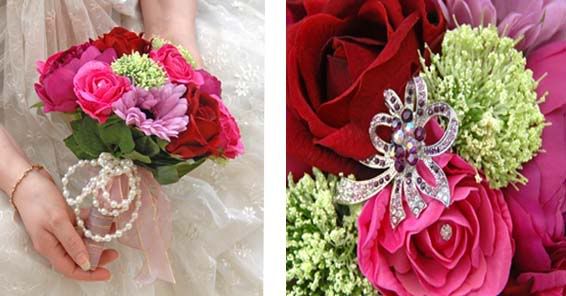 Bright, breezy and happy, this bouquet really speaks volumes about its bride. I can imagine this bouquet teamed with a vintage-themed, traditional wedding, surrounded by a lot of home-made decorations with an earthy, natural feel. The cerise open Isabel roses grab your attention, whilst the dusky lilac gerbera's add a certain softer feel and adds more depth. Added to the bouquet is a gorgeous amethyst brooch and here is a little treat for you, this bouquet has a special finish for you, the magnificent handle is covered in a handmade loop of ivory pearls and crystals.
All bouquets are special, something different and to be remembered, all of us here are so proud of this collection we reckon it's worth gold!
Go over to https://www.sarahsflowers.co.uk/bridal-bouquets/brooch-bouquets/cat_440.html to keep an eye on this range.