It's July and Sarah's Flowers get really excited around this time of year and not just because it's Summer and the elusive English sun may peek its head out, it is all about the Wedding season for us! After months and months of planning, many couples out there will be tying the proverbial knot surrounded by all their family and friends, with elegant dresses and sumptuous décor galore! This is where our team at Sarah's Flowers really excel – giving you and your own theme it's certain something.
Over the years the trends for various themes of weddings have been diverse – Some people choose a traditional ivory wedding theme, some people go for glitz and glamour with gold and some even choose black and white, and as of late I'm sure you have noticed some go for the 'bigger the better ' Thanks for that 'My Big Fat Gypsy Wedding', but as of late there has been a theme that many couples are going for, or should I say 'going back to' and that is Vintage. 
When I say Vintage I don't just mean wearing an old family heirloom wedding dress, these people are going all out, from the table decorations, to wedding favours to invites, the list is endless. People are keen to go back to the generation where wedding days were all about the love and not the materialistic things, people wanted memories to hold onto, be surrounded by their family members and share the special moments in a simple, decadent way and most of all they wanted to have a wedding like their great grandmothers and fathers, of days gone by and when life was simpler.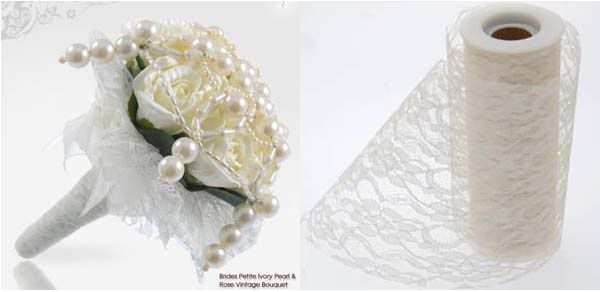 The team at Sarah's Flowers love a good vintage themed wedding and think flowers, really help give this 'back to the traditional' type feel: think lashings of lace with our Large Ivory vintage lace roll  used for the reception tables and even as drapes around the church. Strips of lace can be weaved into the hair style of the bridesmaids; you can never have too much! Combining this with Sparkling pearls and choosing ivory instead of white, our Ivory pearl and rose wedding bouquet  is the perfect choice for the blushing bride and teamed with our Bridesmaids Isabel Ivory Flower Wand  simple yet classy – the wands are even super easy for the younger bridesmaids to hold onto. And for the all-important men, our Ivory rose and pearl buttonhole  help make the men into Gentlemen.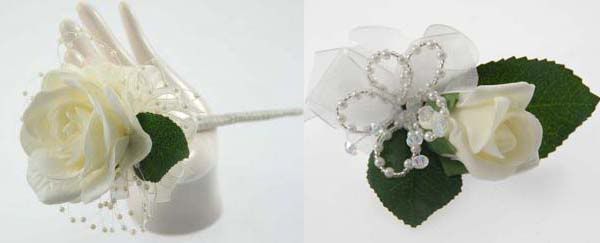 Sarah's Flowers know how to do a vintage themed wedding that's for sure, and one of the most vintage things about a Sarah's Flowers wedding is you get to keep every single flower for life, meaning the artificial flowers will stay with you for years to come and possibly carry on the vintage theme by passing them down the generations!
Are you having a theme at your wedding?
What are your thoughts about wedding themes and what are your favourites?