Its hard to ignore the gentle pitter patter of rain on the windows of Sarah's Flowers HQ, and with Autumn right upon us now, changing our wardrobe isn't the only thing we are looking forward to doing, oh no, we like to properly celebrate the arrival of new seasons and give something to each and every one of you, and this Autumn is no exception, not only do we have a new selection of bouquets but we have another special offer for you, I know, ANOTHER!
First up is our ever expanding range of Handtied Brides Bouquets – we have so much choice it is sometimes a little hard for even us to pick our favourites, but here are some we like to think are the cream of the crop:
Brides Mixed Handtied Wedding Bouquet in Silk Flowers
This bouquet is at the top of the list for all those autumn weddings. Featuring golden yellow sunflowers, light delicate pink gerbera's, ivory tulips, red roses, and some vibrant orange gerbera's – all carefully handtied together and finished with some earthy tones of green fiscus leaves with orange and yellow ribbon. This would look fab teamed with off-white gown with golden bridesmaids gowns.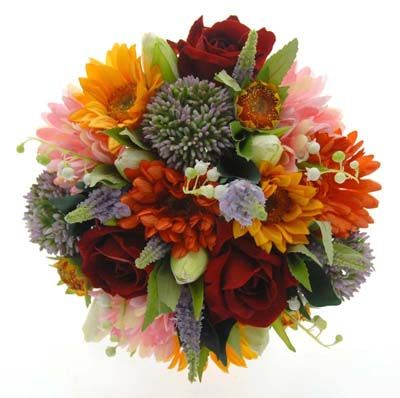 Grouped Flower Bridal Bouquet in Mixed Coloursand Foliages
This bouquet is a fresh, modern and different take on the traditional bouquet. A grouped together bouquet by flowers – nice tightly packed pockets of flowers grouped together by colour and group – it's a real eye catcher and makes choosing corresponding colour themes in your wedding easier to match.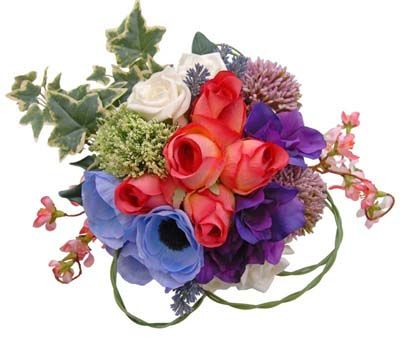 Green Orchid, White Rose & Cream Peony Bridal Bouquet
This bouquet makes all of us want to ride off on a white horse into the sunset! With a real airy feel with the white chloe roses and bright vibrant apple green orchids – whimsical and youthful this bouquet would really suit a vintage and ethereal themed wedding.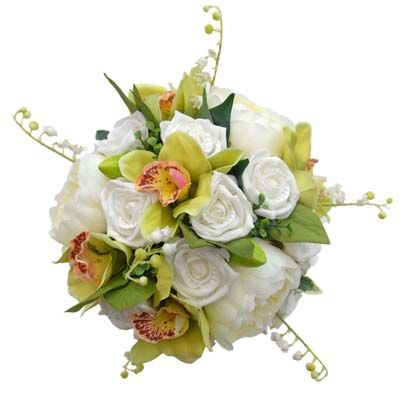 Purple and Ivory and Pink Silk Gerbera Wedding Bouquet
This bouquet's main feature is the swirling ivy collared around the base of the bouquet. This bouquet screams perfection – the Ivory roses are a bright contrast against the purple anemone and the handle is laced in pink sheer organza – I envisage this bouquet teamed with a full skirted dress with the gentlemen all wearing ivy buttonholes.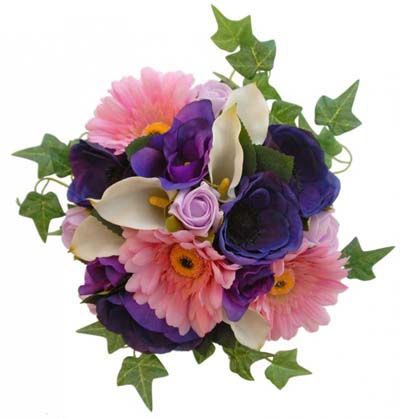 Not only do we have all of these but there are plenty more choices on the website with new bouquets added every week, and before you all think that's it in the way of our autumn celebrations then how about us offering you a bumper 15% off EVERYTHING when you place an order. All you have to do is enter the code OCT812 at the checkout and ta-da! You save yourself some extra money to spend on those heating bills!