Here at HQ, we are constantly following what's new at trade shows, wedding events and online to see what is hot to trot in the flower world. Themes come and go as quick as you like and we have to be at the forefront of these ideas, to make sure we are making your wedding, 'the' wedding of the year in your life, our flowers have to be the best.
2013 is seriously hotting up. Not quite in temperature just yet, but the trends for flowers this 2013 are getting hot hot hot! We have been looking in great detail at one recurring theme seen over the catwalks and at countless wedding shows and that is of pure colour. It doesn't matter when you're getting married: forget the month, forget the proposed weather, this year the flowers are literally going to do the talking. It is going to be all about the Rainbow colours: bright, bold and statement, these are the type of flowers that you can't and don't want to leave out.
This trend is about being as big as you can get: the arrangements have to be grand, they have to grab the eye and hold the attention – finishing touches are made bigger and more opulent, flowers are stored in contemporary containers to make the guests look twice, and lastly the flowers themselves  have to be big blooms, everything in supersized, these are definitely no wall flowers. Here's what flowers you should be choosing for your rainbow trend themes:
Hydrangeas
Multi-layered, they look different at every glance and mostly they make a bouquet look extra large and lush – just what you want in this trend.

Pink Roses and Blue Hydrangeas Bridesmaids Bouquet
The sparkling blue of the hydrangeas never loses its appeal against the more feminine soft pink roses – this bouquet is a statement, but the tones of the hydrangeas change with different lights adding an extra, interesting dimension to this bouquet.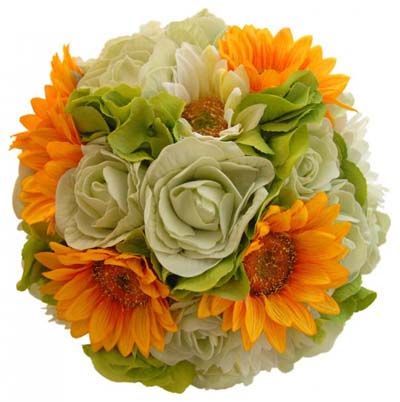 Sunflowers, Roses and Hydrangeas Bridesmaids Bouquet
This bouquet just reminds me of the sun, I just have to smile when I look at it. This Bridesmaids bouquet is as classic in shape as it is statement in style. Once again the Hydrangeas are loud and proud in the peridot green whilst the rest of the flowers are more tonal and blending. This too can be made into a Bride's bouquet.
Tulips
Tulips are simple but stunningly beautiful and when teamed in the right colours and layered right, these beautiful flowers really do standout.

Brides Mixed Handtied Wedding Bouquet in Silk Flowers
We like to think this Brides bouquet is everything you could want.  It ticks all the boxes: it's bright, it's bold, it's a statement bouquet and mostly, it features the larger than life tulip.

Bridesmaids Bouquet in White, Ivory and Pink Flowers Priced at £41.70
This may not seem like your typical bright and bold bouquet to include in this theme, but sometimes a softer colour can still stand out. The key in this bouquet lands with the colour choices and depth that the tulip gives the bouquet. Not too sweet and soft after all.
Anemones
One of our favourite flower choices, this is a delicate looking bloom yet creates a real stir by the sheer size of it. A must-have in any bouquet.

Vintage Lilac Anemones and White Rose Posy Bouquet Priced at £15.40
This smaller sized bouquet doesn't pack less than a punch than its other rivals, the anemone manages to grab your eye with its wide lilac petals, the flower is opened up so it draws you in.
Sarahs Flowers Silk Cerise Anemone Ladies Wedding Corsage Priced at £7.15
This Wedding corsage shows you how to transport the theme over to the more simple corsages or even buttonholes. Two silk anemones in the brightest cerise hue is dramatic without being too much. The perfect choice to bring together a theme.
And there you have it, how to do the Rainbow Theme at Sarah's Flowers – what do you think? What bright combinations do you think work?