Sometimes when it comes to your wedding you spend so long planning the thing that when it comes to the actual day it can just whiz past leaving you feeling sad that the day you've spent so long planning and looking forward too is finally over, but there are plenty of things you can to make your day last longer.
Just think of all the photos that were done professionally and throughout the whole of wedding party – there is something just great and fun about when you sit there with your new husband or wife and look through those photo's – the ones you were looking forward too and the ones you never knew were taken. Next up, is the Brides wedding dress – any bride will tell you about those days that they open their wardrobe and there it is, their dress, that special magical dress.  A tier of the cake is an old fashioned, classic way of holding onto your day, then there is the wedding favour. Not only for the guest but also for the bride and groom – the wedding favour used to be something quite traditional, but over the years the favour has become a lot more fun and more personal, and lastly the best way to hold onto the spirit of your day is the flowers – that's why our buttonholes for the Groom's party and for your guests, are a great way to go.
Our buttonholes are made to last – made to last not only throughout your wedding day but also for years to come so you and your guests can look back and remember the fun. Not as many people choose to go for artificial flowers for buttonholes but we know that through our years of experience that fresh flowers often don't make it until the end of the day and evening: wilting, drooping and worst of all falling apart. Going for the artificial option lets your mind rest easy by never drooping and always looking fresh. Here are some of our favourite buttonholes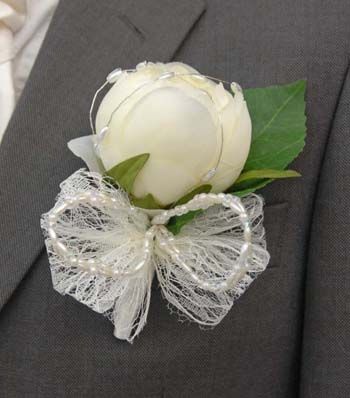 Grooms Ivory Peony with Ivory Lace Detailed Beads and Pearls
Priced at £13.80 per buttonhole

Grooms Pink Buttonhole with Gypsophila and Pearls
price at £4.95 per buttonhole

Grooms Purple Silk Peony Buttonhole with Purple and Lilac Bow
Priced at £4.50 per buttonhole

Guest Buttonhole in a Ivory Soft Touch Rose with a Ivory Bow
Priced at £4.50 per buttonhole

Small Cala Lily Wedding Buttonhole Ivory Grosgrain Bow
Priced at £3.15 per buttonhole
As you can see, our buttonholes are there to make your life a little easier and purse friendly – they really are something to keep hold of and remember your special day with – as well as more than fitting into your budget!
Remember that we can create a custom designed buttonhole to match your wedding theme and colours and at the moment we are offering an amazing 10% off any new order with our January sale all you have to do is enter the code SF1013 at the checkout, we want your wedding to be your dream wedding.